Location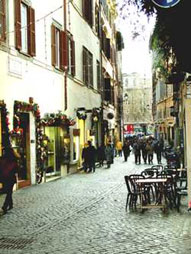 Residenza Giubbonari is located in the VERY CENTRE OF ROME. All our apartments are in a newly restored elevator building, only a short walk (just one minute) from Campo dei Fiori. This is a very lively and safe area, a great location with fabulous neighborhood. This area lies among the Capitol, the Pantheon, the Piazza Navona and the Trastevere areas: it is the heart of Rome and every sight of importance in the city is within walking distance: BRING GOOD WALKING SHOES!
In this area you will find some of the best bargains in fashion, a few legendary grocery shops and bakeries, trendy bars and cafes and any number of ice cream parlours, wine bars, nice restaurants and "pizzeria": when dining outdoor you'll be seated in beautifully secluded piazzas or in impressively ancient parts of Rome.

Our tip: try, in Largo dei Librai, a small, crowded but typical place: look for a tiny, nondescript door that opens onto an eatery: there is no menu here because all they serve (up in a square of butcher's paper) is a tasty deep fried fillets of cod (filetti di baccalà), which is one of Rome's most traditional dishes.
The area is well served by public transportation: many different bus lines stop at Largo Argentina, which is only three blocks from our apartments.




History of this area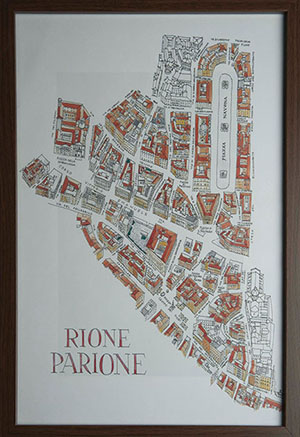 The Great Roman general Pompey erected several important buildings here: a huge Theatre (inaugurated in 65 B.C., could seat 18,000 spectators) topped with a Temple dedicated to Venus Victrix (Venus Victorious), a portico of massive dimentions, an exedra at its end, and a Curia (a congressional centre for the Roman Senate; here the Emperor Julius Cesar was assassined).
Part of the Theatre's walls and marbles still exist in the basement and facades of the buildings in this area. The inner curve or the Theatre of Pompey is echoed by the shape of the buildings in Via di Grottapinta.
At the end of 14th Century this part of Rome was one of the most lively and densely-populated areas of the city; the Via Florea (today Via dei Giubbonari and Via del Pellegrino) and the Via Papalis (next to Piazza Navona) were built in that period in order to funnel Pilgrims from the Capitol Hill to St. Peter Basilica. As a consequence this area became a flourishing commercial centre and the district housed workshops of all kinds. This is why most of the streets are named after the artisans who occupied them: "Leather curriers street" (Via dei Vaccinari), "Rope makers street" (Via dei Funari), "Boiler makers street" (Via dei Calderari), "Key makers street" (via dei Chiavari) and so on.
From 16th Century this area was embellished with austerely noble palaces and magnificent churches.